ECE is your long-term and reliable partner
In this fast changing electronic world of ours, what our customers need is building a long-term relationship that can form strategic alliances, instead of just an electronic component supplier or manufacturer. We believe that the partners needed by our customers are those who can provide diversified products with better quality, higher technology, and shorter delivery time to maintain competence in the market.
At ECE, we are always endeavoring in building up close cooperation relationships with our customers and in assisting them in maintaining their leading positions. The ways we achieve success are relying on product creativities, process integration and facilities development.
Therefore, ECE is not just an electronic component manufacturer, but also a long-term strategic partner to form strategic alliances with our customers.
ECE Philosophy
We believe in two most important things Business Sustainability and Humanistic Care.

Business Sustainability
ECE has never sacrificed long-term benefits with our customers. We are always concerned of possibilities of negative effects on our long-term development.
Humanistic Care
Business is all about the benefits of human beings. We believe that human resources are the most significant assets of our company. As a result, ECE always cares for the needs of our staff and respecting values of individuals. Self-actualization of our staff is also one of our expectations.
Our core values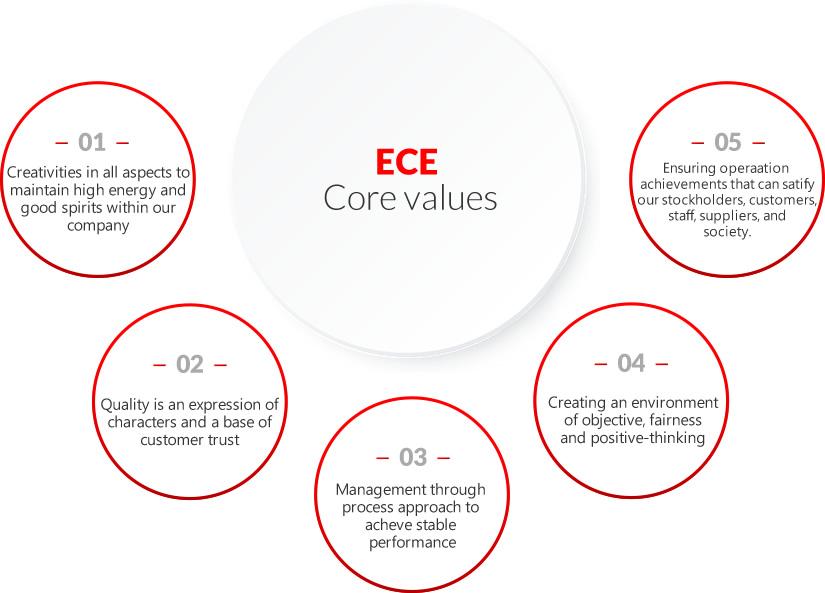 Creativities in all aspects to maintain high energy and good spirits within our company
The creativities that we are pursuing are not only in R&D, but also in all of aspects, such as marketing, management, and knowledge accumulation, etc. Such creativities are more than our nature, but practically extending into our manners as energetic responses at any time to this changing environment.
Quality is an expression of characters and a base of customer trust
The quality that we are implementing is through planned training to enhance the abilities of our staff and understand the quality from the bottom of their hearts. Therefore, we can fully realize the requirements of our customers by excellent communication with our clients and then offer reliable products to our customers under supervision and measurement.
Management through process approach to achieve stable performance
The process approach that we are adopting is to integrate all of processes within our company and to focus on advancing of process effectiveness and efficiency, which leads to stable and predictable performance such as quality, cost, and delivery, etc.
Creating an environment of objective, fairness and positive-thinking
The working environment that we are forming is for our staff to develop their potential advantages under objective, fairness and positive-thinking. Our staff can work through rational thoughts, without necessity in wasting their time in dealing with complicate interpersonal issues such as political and factions, etc.
Ensuring operation achievements that can satisfy our stockholders, customers, staff, suppliers, and society.
The company administration that we are focusing is to protect the rights of our stockholders and to provide high-quality products so as to assure rights of our customers, to offer complete employee welfare and a working environment in good H.S.E. and to grow up together with our suppliers. With the concept of "rewarding our society by what we have taken from it ", we also expect us to be a good corporation that continually rewards gains to our society.